A correct software development business model will help your product gain success and deserved recognition. Whenever you own a start-up, mid-size or large company, the percent of success probability is determined by the business model you follow the practices of. Business success, itself, consists of small and big choices but this is not the topic of this paper. So how to choose "the one" and the most suitable business model for your business? That's the question we're going to answer in this article. 
You may think of your product success right after the idea popped into your head, but do not hurry at this stage. The concept is not the thing that drives the whole process, it's just the beginning of your work. It's like when the sculptor has the idea in his head only after looking at the stone and then scrupulous work begins. The wrong hit or an accent in the wrong place makes him start over and over. The same process can be observed in the business. To not turn into such a sculptor, it's crucial to pay attention to every detail you encounter on your way as a business owner, and the software development business model is a decent foundation, truthfully speaking. 
What are the most popular business models?
According to Statista, spendings on IT services should have reached $1.1 trillion worldwide by the end of the 2020 year. As for the whole IT services market, its revenue has grown by $200 bn since 2008 and it's not the last point. That's the proof that businesses have to focus on the work of IT departments and consider other business models.
In general, the business model for the software development part describes how you're going to develop the exact project parts, how many experts are going to work on the product, timeframes, requirements, etc. 
As a rule, the most popular cooperation models for software development are:
Outstaffing

Outsourcing

Technical partner
Probably you have also heard about custom software development, team extension, or dedicated teams. Some call them cooperation models as well but they're not so popular now, or they haven't just gained their popularity yet. Anyway, let's consider each of the models and ensure that you don't mix them up and have a better understanding of them.
Outstaffing business model
IT outstaffing is an extension of your in-house team by the employee who works in another organization. Simply speaking, that employee (developer, as in our case) continues to work in the same organization and has the same manager but his official employer changes only on papers.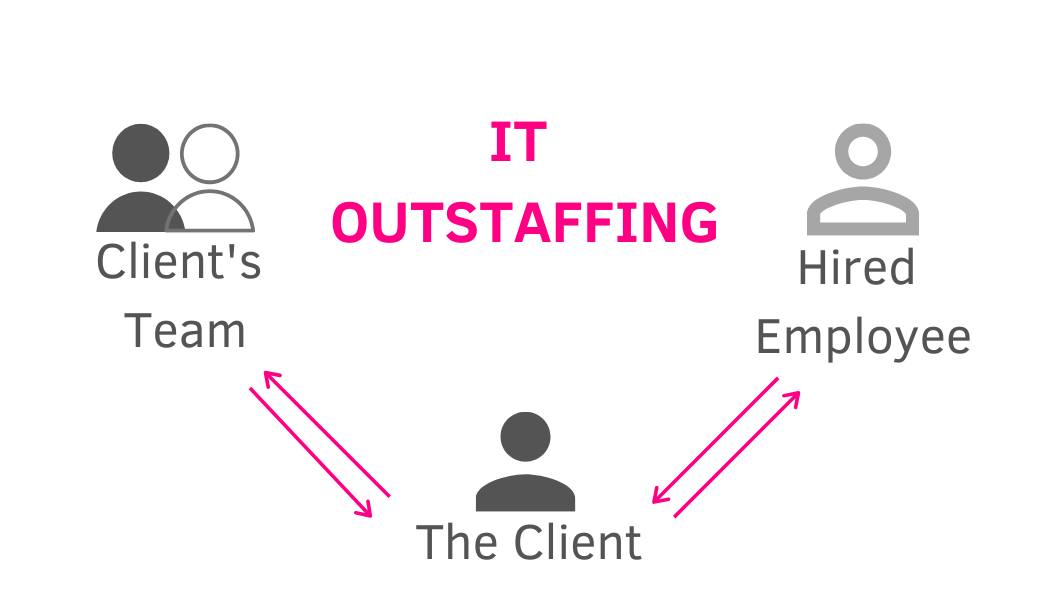 The benefits of IT outstaffing are mostly connected with tax reduction especially when hiring great professionals, and the increased and better control of the in-house development team. 
Outsourcing business model
IT outsourcing means the hiring of a third-party tech company that will be responsible for the whole project development or the exact project parts. 
As it's stated in Deloitte research, there're the main reasons why companies outsource:
to cut or control costs;

to focus on other important business processes;

to solve scope issues;

to upgrade the quality of service;

to get the help of the experts and professionals;

to take care of the business environment.
Let's have a look at a detailed infographic with numbers:
Among the main benefits of IT outsourcing we can highlight the following ones:
cost reduction

a pool of talented developers

time-saving

flexibility
The research made by Data Analytics Outsourcing Market has shown that the IT outsourcing market will grow at a CAGR of 25.8% between 2019 and 2027 though there are some potential drawbacks connected with this IT business model:
Less control over operations

Cultural differences

Data security

Bad management
Definitely, all the risks or cons can be reduced with the help of a decent and experienced software vendor. That's where you have to be attentive when choosing the outsourcing company. 
Countries for IT outsourcing
The most convenient time-zone, culture, perfect communication, and great quality are the main features that describe European IT companies according to A.T. Kearney's report. For instance, Ukraine can be proud of its tech pool since there are 16,000 technical graduates per annum.
Technology Partner
Technology partner meaning is not about one employee. It means and involves much more than two previous business models. This model involves the IT company – well, the whole team that can provide you with a wide range of IT services starting from consulting on the point of improving the existing business processes and suggest the ideas of technological update or even product roadmap. Sounds perfect, isn't it? 
The biggest benefit of this model is that the technology partner strives to make your business as efficient and profitable as it's possible. They're responsible for all the development stages and processes since their range of services includes all that's important for the high-performance solution.
What you should start with when choosing a technology partner?
No, it's not research that is the first step of yours. You should start with some foundational project details:
Determine product goal 

Determine project capacity

Determine technical specifics
Keep in mind one thing: the more detailed you're going to be in your description, the better and more qualitative software you'll get in the end. Also, it's important to make a list of criteria to choose your future technology partner. This may include country, hourly rate, tech stack, etc.
Here comes the most interesting and, at the same time, the most challenging part of deciding on a technology partner since there's no way for you not to write them down or save them in the bookmarks. The main stages of choosing a technology partner are: 
Check Feedback Platforms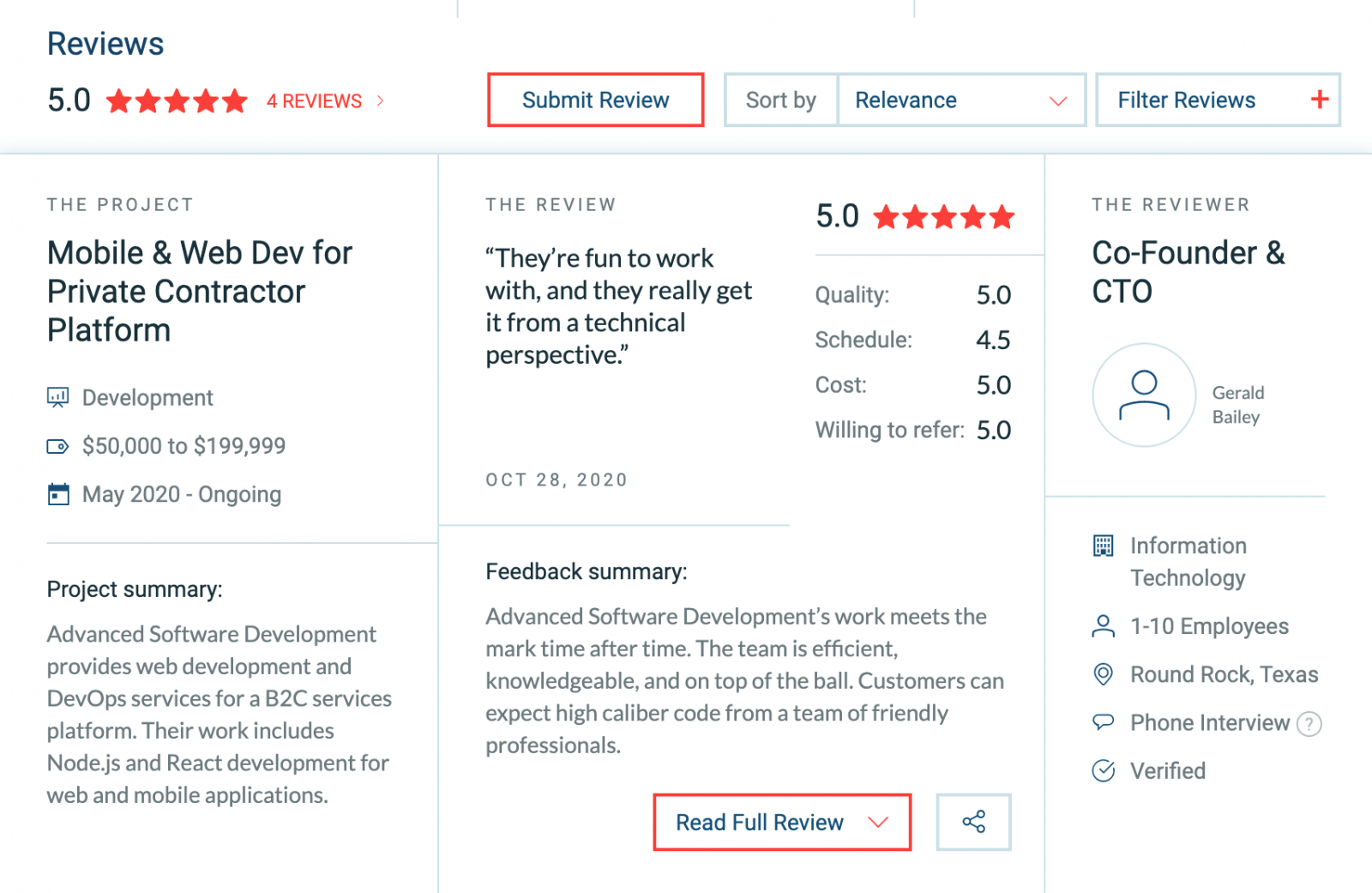 Do your own research and find out what previous clients say about your potential partner. These can be Clutch, Techreviewer, GoodFirms, and many others. As a rule, companies that care about their reputation have profiles on such resources. Furthermore, there you'll find a lot of useful information except reviews – links on the website and social media, rates, services type, and projects. 
Ask For the Portfolio
You may see this page on many companies' websites where you'll find detailed information about previous projects that includes challenges, technologies, services, and solutions. Seeing the company's capacities and expertise allow you to create a mental picture of your collaboration.
Analyze the Workflow
Go through the development processes, responsibility issues, and communication processes by contacting the company's representatives. A thorough study of the software development processes of the IT company will help you have an understanding of the team composition, who is responsible for what, what methodologies does this company use. 
By paying attention to these steps, you'll ensure the most transparent and top-notch technology partnership that will meet your expectations.
ASD Team As A Technology Partner
ASD team supports the business model technology partner and makes all its best to follow all its rules. One may be wondering – "how do I know that you are a reliable company?" 
100% transparency
We are scrupulous about every project detail and we always plan, decide, discuss, and strategize. We believe in the power of correct planning and check everything twice before starting the development process. Where's the transparency? We plan based on our partner's challenges, desires, goals, and opportunities. We do not impose our opinion, we suggest the most suitable for YOUR BUSINESS solution. 
Scalability
Our development team is responsible for ensuring a scalable solution that will be able to adhere to growing demands. We always think ahead to make sure that everything will go as planned even by calculating the project risks. 
Ongoing project support
We are reliable partners since we never leave our partners on the half-way or after the product launch. Our quality assurance team always verifies that your solution works without any crashes and problems. 
Bottom Line
We hope that we were able to help you on your way to deciding on a business model. If you have any questions regarding the business models described, feel free to contact us and we'll be happy to answer any questions you may have. 
Regards, 
Your reliable partner, ASD team.
References
ukrinform.net

kearney.com

researchandmarkets.com
Related Articles:
Thank you for submitting the form!
Our team will contact you within 1 business day. Make sure to check your Spam and Promotions folder just in case.
We use cookies to personalize our services and improve your experience on this website. We may use certain personal data for analytics and marketing purposes.