We are here to help
Startups
We cover all the newly established businesses needs to validate their ideas, launch first products, and provide valuable solutions to the end-users:
Discovery Phase
MVP Development
Product Developments
API Integrations
Learn more
Growing Businesses
We help businesses improve or scale their product by transforming their ideas into code, and the code into a ready market solutions:
Product Development
API Development
API Integrations
Product Reengineering
Learn more
Transportation Software Development Disclosed
We are called Advanced Software Development for a reason. Our team builds transportation and logistics software solutions that change businesses and communities for the better. While maximizing the income and improving processes of the former, they increase the life quality of the latter.
Here are the main features of our transportation and logistics software development services:
Precision
We develop software that delivers directly to your initial requests. No generic solutions, only custom-tailored products that tackle specific issues.
Scalability
ASD builds prototypes and MVP with an aspiration for a long-lasting growth, which is abundantly relevant in today's transportation industry.
The Whats
Transportation And Logistics Software Solutions We Can Develop
Сar Rental Software
Custom based software development for your valuable and decisive concepts of car rental systems.
Fleet Management
Efficient fleet management takes a lot of data-processing. Collect, process, visualize, and make use of all the data pertaining to the fleet.
Traffic Management
Harness the power of efficient movement with instant traffic and road situation analysis.
Road Infrastructure
Ensure the highest velocity and quality of transportation and delivery with the help of digitalized transportation services.
Monitoring and Tracking
Asset tracking and monitoring solutions come of specific value to cargo and taxi services providers by letting them tap into advanced asset monitoring, prediction, maintenance, visibility, and overall management.
Navigation
While boiling down to increased movement efficiency, navigation software solutions are vital for both domestic and international transportation companies seeking value from offline mapping, real-time GPS tracking, and real-time guidance.
Shipment Tracking
Enhance customer satisfaction by granting them full-fledged and real-time shipment tracking and management opportunities.
Urban Mobility
Alter urban experiences with convenient urban movement planning, advanced parking management, convenient carsharing, and multi-model transportation systems.
Don't see your niche in the list?
Let us carefully study your project and find out how we can be useful for you.
Transportation And Logistics Software Development Services
Technology Consulting
Your tech issues. Our team of experts bringing solutions to the table.
Custom Software Development
Your idea. Our expert vision and experience crowned by state-of-the-art implementation.
MVP Development
Your concerns. Our team of tech enthusiasts boosting your project development.
The Whats
Transportation And Logistics Software Matters
Questioning the propriety of an important business decision is the right thing to do.
We're not here to impact your decision-making. We're here to share our knowledge on how logistics and transportation software changes businesses for the better.
01
Win Competition. Custom transportation software helps companies win market competition by setting up omnichannel experiences for drivers, passengers, customers, and even pedestrians.
02
Harness Digital Transformation. Digital transformation enables businesses to gain velocity and competition grit with the help of neoteric technologies.
03
Unify Management. Manage a plethora
of services on an end-to-end basis from
a unified management system.
04
Add Visibility. Visualize the processes within your company and embark upon advanced analysis of what's working well and what needs to be changed.
05
Optimize Distribution. The existing production and distribution processes gain momentum as unprecedented opportunities rise on the horizon.
06
Cut Cost. Logistics and transportation software's primary mission is to render your processes more cost-efficient by automating and streamlining your services delivery routine.
ASD For A Reason
There is a particular set of reasons that justify your decision to opt for ASD as your software development partner.
Numbers
0

+
years of niche experience
We develop software only for those who make the world move
0

+
developers aboard
We offer our clients immense scalability freedom
0

+
completed projects
We know how to take you to market; we've done it like a hundred times
0
out of 5
customer satisfaction rate
We leave no one disappointed because we dig deep into the business needs of our clients
Facts
Following An Established Process
Just like in logistics, there are landmarks to reach throughout each and every software development process. We do it with ease, as we have our route defined, tested, refined, and established.
Research

Our team starts with conducting in-depth research of the information pertaining to your project. The ultimate deliverable we receive here is that we have a clear vision of what, when, and how must be done.

Development

With the requirements set, management and communication practices established, we embark upon the active development phase.

Testing

Everything we do is subject to an extensive testing session called to detect every single flaw in code and prevent it from recurring.

Deployment

As your solution has been designed, developed, and tested, we get it ready for reaching its customers, keeping a close watch over its wellbeing.

Contact us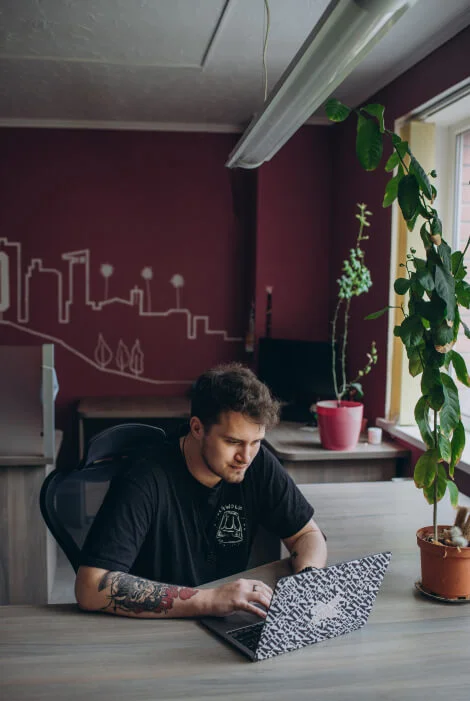 FAQs
What is your pricing model for transportation management software development services?
ASD company has a flexible pricing model that allows our clients to pay a fixed monthly price based on the hourly rate calculation of every tech team member.
When do you need custom transportation app software development?
Early development of a transport management software strategy is a necessary and preventive step to help your business to stay ahead of tough competition. Thanks to the software, your business will get a safe and efficient management tool for logistic chains, but what is most important you will get an advantage over your competitors. Sure, no one forces you to develop such software from scratch. There is an option to take an existing software solution and adapt it to your requirements and needs, and then transportation software developers can integrate it with advanced platforms.
What is transportation software?
The purpose of transportation management software is to plan, execute, and optimize the transportation of incoming and outgoing goods. Also, the software helps to ensure the shipment is compliant and has all the documentation. Often this system is integrated into a much bigger supply chain management system.