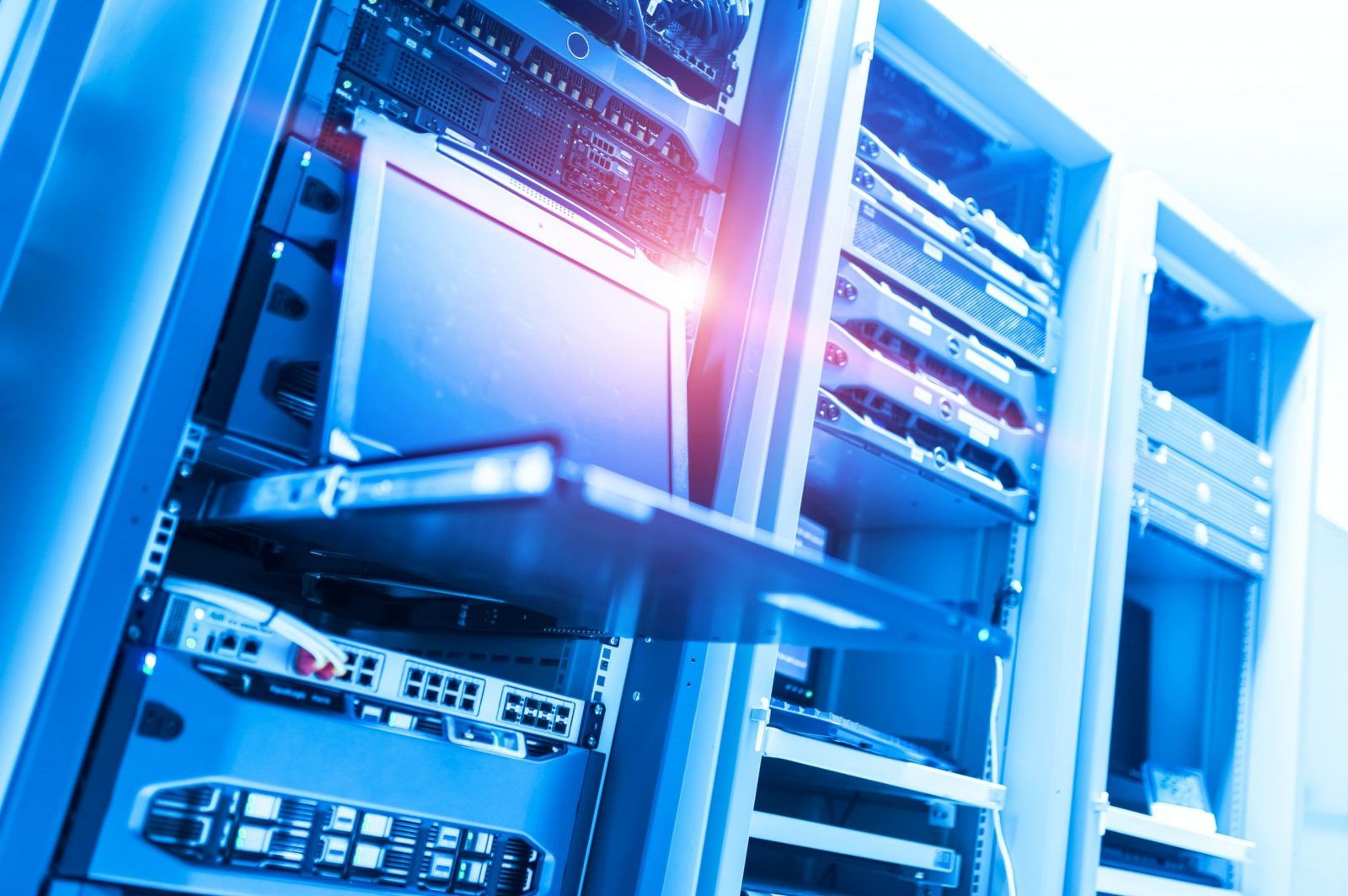 Basically, API in the Travel & Hospitality industry serves as a kind of protocol that allows the systems to connect and communicate with each other. But the issue of API integration into the Property Management System belongs to PMS provider. And what we're going to do is to try to make things clear about the value of API for PMS suppliers. 
For instance, all the connectivity between website, software system and keyless entry system is done through APIs. The information from the property management system is delivered to the website and keyless entry system, and vice versa – information from a website and keyless entry system is pushed back to the PMS. And what happens next is that PMS company gives this API documentation to other technology providers and each of them connects to the PMS via API. It's more credible when the PMS supplier provides an API developed by him or his team. This makes the data transferring and synchronization correct and smooth. 
Third-parties connecting to your PMS through API: 
Hotel website;

CRM system;

Keyless locks; 

Housekeeping schedule;

Booking websites;

Revenue management;

Channel management.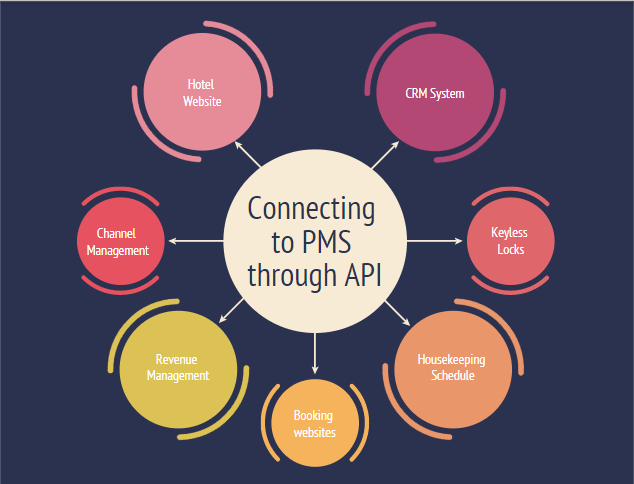 How do APIs look like in the hospitality industry? 
As we've already figured out that API is a kind of channel between systems, now let's discuss its value in the hotel industry. All the hotel's systems have to be able to integrate with each other and third-party players (e.g. travel agencies) to ensure their value. And here's the role the API plays in the hospitality industry: 
Connection of a Revenue Management System (RMS) to a Property Management System
For RMS to deliver relevant proper and valid information on pricing, there is a need for information from HMS (e.g. occupancy numbers). Some of the PMS has evolved the integrations with particular RMS that work with APIs. 
Connection of a PMS to the upselling software 
The API makes a so-called "interconnectedness" of two systems more efficient. The upselling software excludes the manual entering of the modified reservations by front desk workers since it connects to the PMS. Furthermore, it makes the room upgrade possible without any staff assistance.
Connection of PMS to Business Intelligence (BI) software
Daily any hotel produces lots of data and the only tool that can synthesize it – is business intelligence. BI does not only incorporate data from the front office, but it also can see the performance of competitors' hotels and even suggest an additional dish for your restaurant menu. But this tool is useless without stable data transmission from the PMS and of course the API.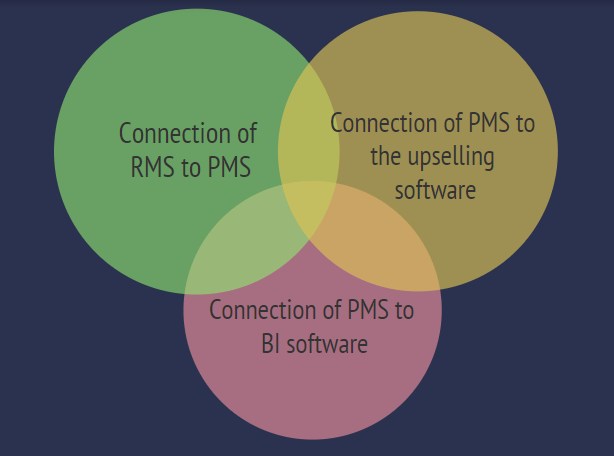 Why the PMS developers should provide their APIs?
Simply put, APIs are not standardized and each PMS transfers the data differently and that creates a kind of barrier for hotels to accept the services from other tech companies. Even though most Property Management Systems consume and provide data in their API variously, the interfaces still connect and maintain hurdles. The important point here is that PMS supplier should always think ahead and ensure that the API provided will not make it hard for hoteliers to accept new advanced technologies. 
API makes the booking on third-parties websites, OTAs, or other resources you connect your PMS with smoother and more reliable. According to statistics of Finance Online, 66% of bookings are made on direct website bookings, while 34% is left on booking on third-parties websites. This data is one more reason for PMS providers to include the API integration into the services they provide to hotels.  
Considering all the facts described in this article, we can conclude that APIs are essential for easy integration of PMS with multiple software. Moreover, the emergence of this interface stimulated the possibility of innovation in the industry of hotel software and its integration into property management system becomes vital here.
References
hoteltechreport.com

lodgingmagazine.com
Related Articles:
Thank you for submitting the form!
Our team will contact you within 1 business day. Make sure to check your Spam and Promotions folder just in case.
We use cookies to personalize our services and improve your experience on this website. We may use certain personal data for analytics and marketing purposes.