Custom software is known for its customizability, which allows building block-by-block exact software needed to fulfill all your needs: add or remove features, new ideas, change whatever you need. It is like shopping during sale days.
Such shopping can make you spend more money than you need to spend. But how to save money on development? We have an answer for you with all the steps to follow.
First budget estimation
Nothing should be unplanned in software development, especially budget. Without a planned budget you will spend part of the budget on unnecessary features or features that don't satisfy your need, and they will have to be redeveloped in the future.
ASD team suggests a smart budget, which provides you with enough funds to deliver a product which can pay for itself as fast as possible.
There are 8 consecutive steps you have to follow to save your budget and get the best results:
Step 1. Ask your business or IT consulter for tips
It is the first step that helps to get some clues on how to save on a development budget. This simple step may not be obvious, but it's essential at the very beginning of your path.
What you can get from your IT or business consulter:
help with planning an MVP;

a clue on how to avoid reinventing the wheel and save on integrating and using already existing solutions.
Consultation with your IT partner allows starting to develop your Development & Implementation Plan.
For example, you shared with an IT consultant a few basic issues that your product was supposed to solve, and the main one was AUTOMATION.
The product allows you not only to choose the best provider but also to automate the process of applying to an account or getting an insurance quote in one click, so there is a long list of features that need to develop
The IT consultant helps to pick up the set of features for MVP and prioritize them. 
Step 2. Define the product's validation process.
Validating the idea is an important step before developing a fully-featured app.
How to validate your idea and product
Create a list with the most vital features of your product (it's so-called MVP).

Conduct market research to reveal demands for your future product. Commonly you can get that information from users' feedback and the main reasons to develop an MVP first.

Add more features or specific platforms according to received feedback. 
These insights might be surprising, and you'll get the direction to move on or stop and revise the idea of making an app with features nobody wants.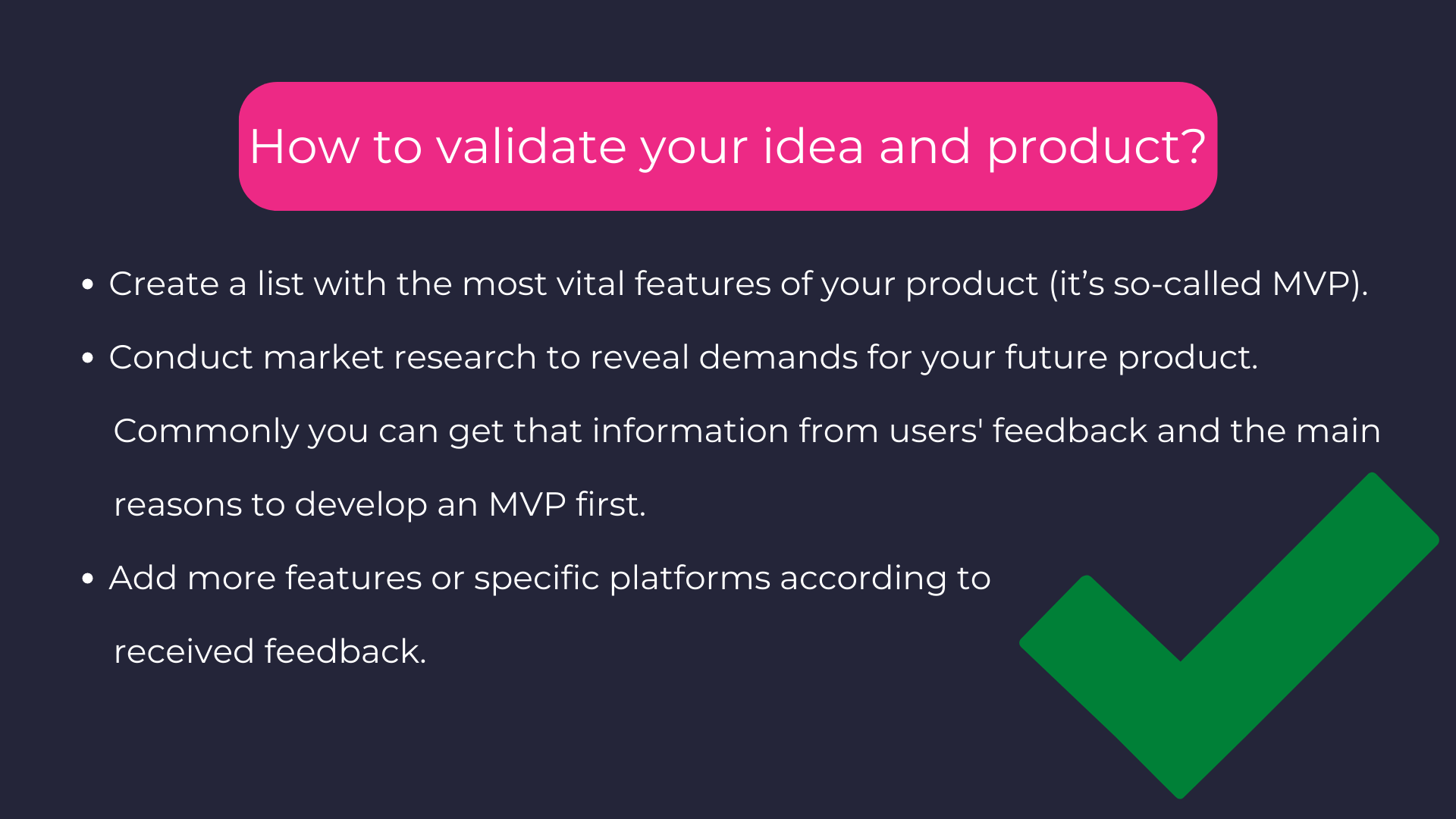 Step 3. Create a clear RFP (Request For Proposal)
Before starting to search for a software development team prepare a Request For Proposal. This is a common practice in the IT business.
RFP is the process from planning to project delivery. But it's a good idea to start with an RFP document which usually includes:
consistent info for future technology partners;
the ballpark figures of costs for development;
deadlines;
business needs;
other basic requirements.
Let's review essential points from this list:
Description of your project idea.
Add a case with financial info pitching your project.
This can be both a market and feasibility research data section.
User Stories, for instance.
Non-functional Requirements
Appearance, reliability, usability, etc.
Features will be implemented first and will go to the backlog.
Project Development
Explain business needs.
Describe what to do in Phase 1.
List the expected deliverables, like algorithms, quality control, etc.
Estimated Timing and Budget.
Step 4. An outsourcing company is the best choice to save money.
The next step in saving development costs is outsourcing. Hire an outsourcing company that understands the product's requirements and has enough expertise to deliver it, and you'll get the best results and a saved budget.
Here's your motto for Phase 1: "Build less, release sooner!"
Step 5. Prepare more money than is estimated
As we said in the beginning, custom software is very customizable, and you can add as many features as you want (or while you still have money). So, the number of ideas usually exceeds the allocated budget.
Worth mentioning that during the software development process, you may face complexity that makes you spend more to solve.
And it's wise to allocate 150% of the ballpark estimates from your technology partner and be sure you have enough budget. It's not necessary to spend all 150%, but protect yourself from unknown risks.
Step 6. Set fixed budgets for each Phase of the project.
Set a fixed budget for Phase 1 (or MVP).
That will allow you and the development team to work on vital features. Remember – "Build less, release sooner!" still works.
Such a strategy leaves you more spare money for updates and bug fixes after releasing an MVP, which is also necessary.
Step 7. Review SOW after the project starts.
Scope of Work or SOW is a document with tasks to do within your project. It usually includes:
Project Description
Business requirements
Technical requirements
Schedule or Milestones
Estimated Budget
Payments Schedule
Step 8. Watch project milestones and check-ins.
Every client imagines that the development process is:
explaining all the product's requirements
leave the software development team to create it
take the perfect and ready product
But on practice, you should regularly take part in meetings with your team and watch milestones and deadlines by constantly checking in
Here's a common milestone breaking down:
Dates
Percent of completion
Deliverables completed
Payment schedule
Summary
Project budget estimation by ASD team
Project budget estimation is conducted based on:
team composition the project requires to reach all the goals;
Specific roles that are involved in the development;
the type of service (product development from scratch or integration).
Our company can estimate your project completely for free! Just follow the link to get a free estimation https://asd.team/free-project-estimation/?utm_source=article&utm_medium=post&utm_campaign=save_budget
Related Articles:
Thank you for submitting the form!
Our team will contact you within 1 business day. Make sure to check your Spam and Promotions folder just in case.
ASD team stands with Ukraine