The travel and hospitality industry is in a fervent need of custom developed software. While it might be a bold statement, it is the truth, as the new normal era dictates its own rules of people's mobility. Custom developed travel and hospitality software has stepped right in between the travel agencies and tourists, ensuring the maximum level of security and convenience. People now find it easier to move and stay around, which could not have failed to benefit the industry's businesses. Therefore, today, we will speak about custom software development for the travel and hospitality industry, the major types of software solutions and how they can benefit businesses by benefiting customers.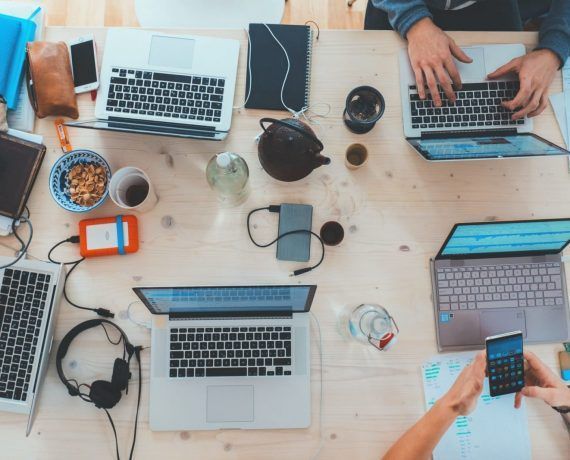 Hospitality Management
The hospitality industry's reliance on management software is becoming more and more visible. As per Cision, the hotel and hospitality management software market will reach a value of $994.71 by 2025. This is nothing but proof that the hospitality industry's focus on management is special. Unfortunately, there are way too many things that can go against the plan, and the end user will have to close the gaps real fast. You have to deal with people's volatile itineraries and desires, and this task might get out of hand without proper hospitality management software. 
Hospitality management software is a technological solution that collects data on the customers side, synthesizes, delivers it and represents it in an understandable manner to the service side. Hence, managers and personnel know better how to meet their customers' requirements to the fullest. Also, it extends the functionality of a company, thus letting those who travel experience no bumps on their way toward planning, booking, paying for, and actually putting their itinerary to life. 
Here are some more details on what hospitality management software is capable of.  As it's stated in Hotel Tech Report, custom hospitality management solutions for hoteliers are capable of providing the hospitality businesses' management with pinch-perfect and accurate data on all the processes within a hotel. The common types of hospitality management software are:
Property Management Software (PMS)

EMV credit card payments

Online booking and distribution

Points of sale

Revenue management

Activity scheduling

Daily staff reports

Smart hotel automation and others. 
Also, it's known that hospitality management software of today can be easily integrated with a CRM of any choice and complemented by more than 100 integrations that will help your users analyze real time data for improved ad hoc and planned hospitality management.
Booking and Contactless Hospitality Solutions
The new normal traveling processes must be fast, efficient, convenient, and as contactless as possible. AirBnB is a vivid example of how contactless hospitality can become something more than just a trend. A part of the global appointment scheduling market, booking and contactless hospitality solutions are to rise to $633 million before 2025, and it seems like "before" is going to happen faster than anticipated. Well, people want to travel safe and with comfort. This is what booking and contactless hospitality solutions can give them.
Nowadays, the so-called unified booking solutions are becoming more and more popular. A unified booking solution is a platform where you can plan and book your trip through and through: from taxi to the airport, to plane tickets, and hotel reservations. This is a traveler's hub to savor, as it helps people arrange their journeys in a glimpse of an eye. There's no wonder that nearly 1 billion people will be booking their hotel rooms online by 2024. Custom-built booking software is something that can change people's perspective of your company once and forever, sowing the grain of loyalty to your services in their forever-bursting desire to travel.
Hotel Applications
Every single business willing to stay competitive in today's extremely fluctuating market has to have an app. Regardless of how old-fashioned and classy a business might be, it needs an app simply because end-users need it as well. While hotels have been using software for decades already, a hotel app is a relatively new product that changes everything within an industry. Imagine how satisfying it is for a hotel guest to use all of the services with ease while running the process from their phone? Managing everything that is going on in a room using one app? Spectacular, right? Those are the words they are going to use when telling their friends about the hotel that has its app. Getting an app for the hotel is the best boost for the hotel's word-of-mouth advertisement.
Mobile Kiosks
One thing that folks cannot stand about traveling is waiting in the queues at the airports. It is a truly troublesome and tedious endeavor that many people abhor. Now, with all the social distancing rules and masks on your faces, it becomes even more uncanny. A mobile kiosk is something that enables folks to enjoy their vacation without the need for arriving earlier for a check-in and standing in the aforementioned lines. A mobile kiosk is a traveller's portal to a hassle-free early check-in that lets them bypass the desk line. It might be a needle in the hay of traveling chores, but the value a mobile kiosk brings is indisputable.
Conclusion
When choosing what to call today's consumers – customers or users – it seems like the latter variant prevails. Therefore, every industry is nowadays heavily reliant on software, and the hospitality industry is not an exception to this rule. Having a reliable travel and hospitality software development partner is no longer a whim that makes you stand out of the crowd; it is a necessity that helps you keep up with the Joneses. Think of it as an opportunity to outpace your competitors by giving people what they want. Custom developed software is the tool that lets a business give users what they need even before they start thinking about it.
References
prnewswire.com

hoteltechreport.com

businesswire.com

condorferries.co.uk
FAQ
[helpie_faq categories='23']
Related Articles:
Thank you for submitting the form!
Our team will contact you within 1 business day. Make sure to check your Spam and Promotions folder just in case.
We use cookies to personalize our services and improve your experience on this website. We may use certain personal data for analytics and marketing purposes.