Software development is a long and complex process that requires the development team's specific skills, dedication, and motivation to develop a high-quality product that meets all the initial requirements. It is not rare when the development team experiences a lack of motivation, skills, or knowledge to continue reaching the project's goals. Under such circumstances, the most rational decision will be to change the team to a different one that can continue the development. 
Hiring a new development team and continuing working on the project sounds easy, agree? But in reality, it only sounds easy as there are many aspects and steps between firing the old development team and hiring the new one. 
When do companies switch to another software development team?
There is no strict reason that shouts you to change the development team immediately, but there are signs that can help you to analyze the current team and decide whether it is necessary to change the team. 
There are the following reasons to change the development team:
Lack of skills and expertise
It is the first and apparent reason to change the team, as it can fulfill product development needs no more;
No one can develop a flawless product, there is always room for improvement, but there is a red line when it becomes a sign of unprofessionalism and poor skills.
Deadlines are essential as they define time frames for development to estimate the time and resources you need to finish each stage of product development. The development process becomes chaotic and unpredictable when the team cannot meet deadlines.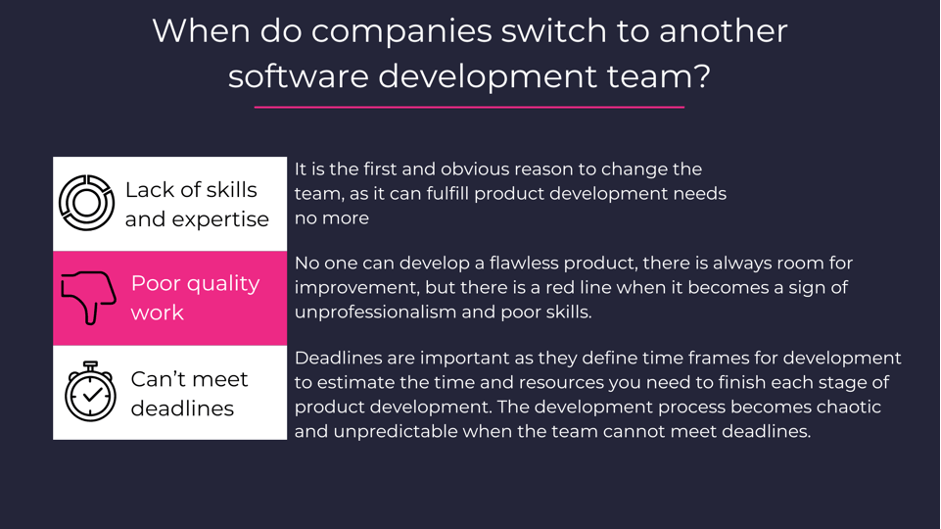 Definition of knowledge transfer
Knowledge transfer brings information and data from a previous team or company to the current one. During knowledge transfer, the new team or company gets all the assets, tools, information, documentation, and everything that belongs to the project, and the new team can use it in the development process.
The step-by-step knowledge transfer process
Knowledge transfer has a defined and structured process (but it can be customizable to your specific needs or circumstances), so you need to follow these four steps consecutive to perform a proper transfer of knowledge from the previous team to the current one:
Define what crucial information you need
Depending on how long the team worked on the project, there can be much information about different aspects of the development process. Somewhere there can be some redundant info, so it is preferable to go through all the information and define only the necessary and practical for the new team, for instance:
services access, environments, configurations, tools, and other assets that are part of the software development process;
test cases, user stories, all the developed product requirements, and development workflow;
mockups, prototypes, software architecture documentation, and database structure.
– Choose a method for knowledge transfer
Knowledge transfer is a complex process, so there are multiple methods you can use to perform it:
structured technical documentation;
series of meetings;
questions and answers sessions;
training sessions with previous and current teams.
– Structure information for sharing
After gathering all the necessary information, it is not the end. You can't just take all the pages with written info and send it to the new development team. The information should be well-structured and easy to read and learn from it. Everything must be clear and understandable not to cause any additional questions because when you have poorly structured info, then you will get additional questions that waste your time solving them. It is much more beneficial to spend time structuring it than further answering questions.
You can structure information for knowledge structure as:
presentations;
videos and pictures;
libraries;
knowledge portals.
– Evaluate the completed knowledge transfer
The last but not most minor step is the evaluation of the completed knowledge transfer, where you need to estimate if the transfer was successful if the process of knowledge transfer itself was smooth and troubleless, and if you had some challenges, it is necessary to outline all the challenges and define the reason they emerged.
Overall, there is no unified checklist to state whether your knowledge transfer was successful or not. We can only measure it by the following points:
The new development team was able to study all the materials, and it helped to start working on the project without any additional questions or spending additional time to understand some processes, and the workflow is smooth;
Team members received access to essential services and systems, so there are no barriers to working on the project
The team has structured information from knowledge transfer which they can use if they have any questions during the software development process, which saves time.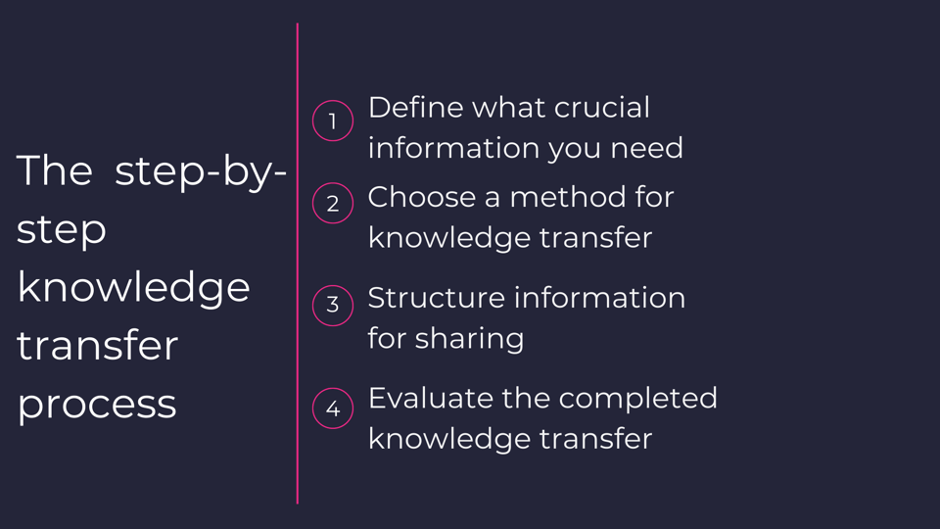 Challenges during knowledge transfer
The main challenge in knowledge transfer is to transfer the experience and vision of certain specialists on the project. It is easy to structure and organize accesses, mockups, and other visible information that you can see and read, but experience and specific knowledge are in this person's head, so you have to find the right approach to transferring it to the new team.
To cope with the challenge, you should conduct a series of online meetings where knowledge holders can share their knowledge and experience with the new team in the discussion, and the team can ask questions and get direct answers. Such an approach makes the process fast and improves the quality of knowledge transfer.
Knowledge transfer is a crucial process during the development team change. A well-planned step-by-step knowledge transfer will make the development team change process smoothly and quickly, so you can renew the software development process as soon as possible without losing time and quality.
To conduct a knowledge transfer successfully and without wasting time, remember the importance of well-structured information and fast and easy access to it for any member who wants to clarify something. It saves time for the development team and resources as there is no need for you to clarify some details for the new team as they have structured information in a single place.
Related Articles:
Thank you for submitting the form!
Our team will contact you within 1 business day. Make sure to check your Spam and Promotions folder just in case.
We use cookies to personalize our services and improve your experience on this website. We may use certain personal data for analytics and marketing purposes.