When looking for outsourcing software development services, you likely face two ways of destination: to Ukraine or India. Both countries can be cost-effective and provide the desired IT services, so we are going deeper into the topic and explaining why outsourcing to Ukraine is a better and more profitable option. Ukraine outsourcing has many other advantages, except cost-effectiveness, that you could miss.
The Secret of Ukrainian Outsourcing
According to Statista, revenue is expected to show an annual growth rate (CAGR 2023-2027) of 12.70%, resulting in a market volume of US$1,398.00m by 2027. Such attention and demand on Ukrainian software development services cannot be without a solid reason, which is partly true. We said partly, as there are not one but a few solid reasons why many countries choose to outsource to Ukraine.
Highly-skilled and educated talents. We can say a lot about education, but statistics say better. According to The Good Country Index, Ukraine ranks #1 in the world for the quality of its IT professionals. The highest rank has been achieved thanks to a determined educational focus on science, technology, mathematics, and engineering. It is not rare to hear that many students start working even before graduation, so after it, they are fully educated and practically experienced experts. High-quality education and relevant experience in the field of work make Ukrainian developers highly desirable around the globe and outsourcing software development to Ukraine is an appealing destination. 
Economic sector. In Ukraine, the cost of living is much lower than in Western countries, which reduces the cost of software development services. The best part of this: the quality of work is the same as in Western countries! Pay less, and get more high-quality services. Worth mentioning that the Ukrainian government actively cooperates with the IT industry and implements laws or regulations to foster the development of the IT services industry. The brightest example is Diia City, where Diia City residents – both Ukrainians and foreigners – will not work under the current Ukrainian legislation but under special rules set out in many draft laws that the team has already prepared. The key points are as follows:
A special taxation system with a tax on withdrawn capital instead of income tax.

Liberalization of labor relations – both classical employment under the Labor Code and contractual employment (an alternative to individual entrepreneurs) are allowed.

The European system of intellectual property rights acquisition and protection.

Protection of their interests using elements of English law rather than in a district court.
Moreover, it is only the beginning of the Ukrainian IT industry development and further IT outsourcing to Ukraine will become only better. According to Volodymyr Zelenskyy's forecasts, the IT industry's revenues in Ukraine may increase from $6 billion to $16.5 billion by 2025, and the share of the Ukrainian IT sector will grow to 10% of GDP.
Cultural similarities with Europe. Ukrainians bravely and strictly chose the Western vector of development, which was proved by the Revolution of Dignity that took place at the end of 2013 and early 2014. Many traditions and business practices are shared with Europe and the USA, the main partners of Ukrainian outsourcing companies. The English language is widely used, so the language barrier barely exists. 
Due to the country's ideal location, which is at the crossroads between Europe and Asia, it is comfortable for both sides to visit Ukraine, and Ukraine's time zone fits many EU countries. It diminishes the challenge of the time gap between developers and clients, making communication and collaboration comfortable and productive.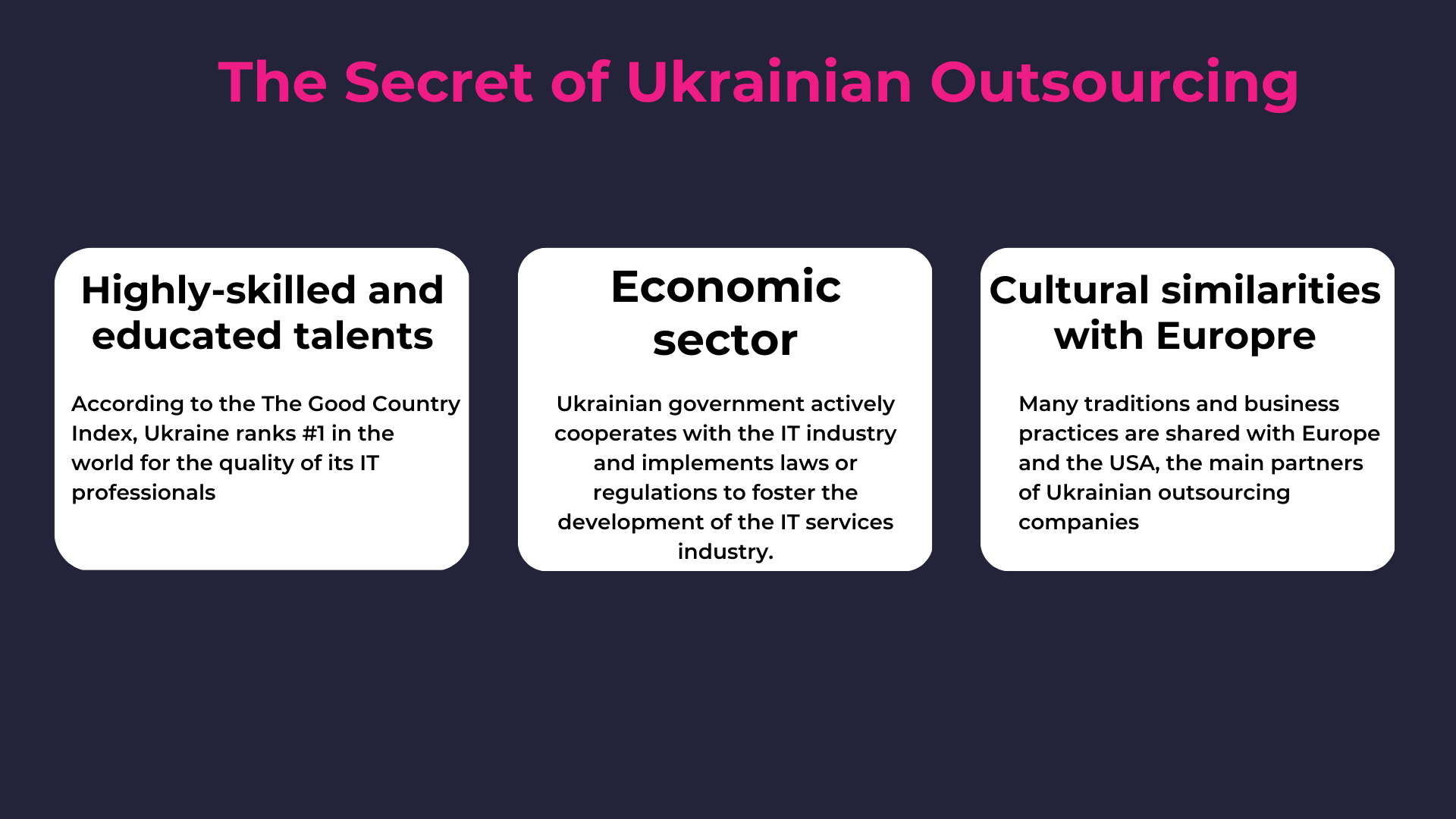 Outsourcing to India. Why is it not cost-effective as it seems?
To make an honest and objective comparison, we will use the same points as we used above to see the difference in the same environment to reveal advantages and disadvantages of outsourcing to India. 
India has a large talent pool. According to Wikipedia, the estimated population in India is approximately 1,4 billion people. Obviously, there are more developers and talents, simply mathematically. Unfortunately, according to the Global Skills Index, India ranks #24 worldwide for the quality of IT professionals! Compared to Ukraine's first place, by choosing the amount, you sacrifice the quality of services a lot. How can such problems with outsourcing to India affect your business?
If the team lacks the skills to meet the quality standards of your product, it can lead you to release a poor-quality product that damages the company's reputation. It is a straightforward way to lose customers and revenue.
Political and economic sector. The Indian government supports the IT sector as well, which led to IT sector development, but still, some political decisions can negatively impact the collaboration with Indian IT outsourcing companies.
If speaking practically, imagine outsourcing software development to an Indian development team. In the middle of the development, the Indian government announces new regulations that negatively impact your collaboration with the team and the development process. It means additional spending to adjust to new regulations, delays, and additional work. For example, in 2019 the Indian government introduced a law that proposed stringent regulations on cross-border data flows and proposed giving the Indian government powers to seek user data from companies. Such a decision confused foreign companies about future cooperation with outsourcing Indian companies, as there were fears that it could increase their compliance burden and data storage requirements.
Culture and geolocation. Indian culture differs from European or US culture and traditions. Many entrepreneurs state that miscommunication and misunderstandings occur with Indian outsourcing teams, where the members use fewer words and lack details when communicating. It leads to delays and increased costs of software development. Miscommunication is not the only hidden cost of outsourcing to India, as its geographical location increases the costs of travel between the client and the outsourcing team. Cultural and location differences from a long-term perspective can bring more spending than profit from cost-effective software development services.
For example, if the team doesn't speak up about concerns or issues, the client thinks everything is ok, and the process proceeds as planned. As a result, all the issues accumulate and cause code rework, delays, and additional costs.
In conclusion, we have the following points:
Highly skilled and educated IT specialists in Ukraine, which is proven as #1 in the world for the quality of specialists.

Lower cost and higher quality lead to cost-effective services without sacrificing quality.

A supportive Ukrainian government fosters the development of the IT sector.

Cultural similarities and geographical location. Shared business and cultural traditions with the EU and comfortable timezone.